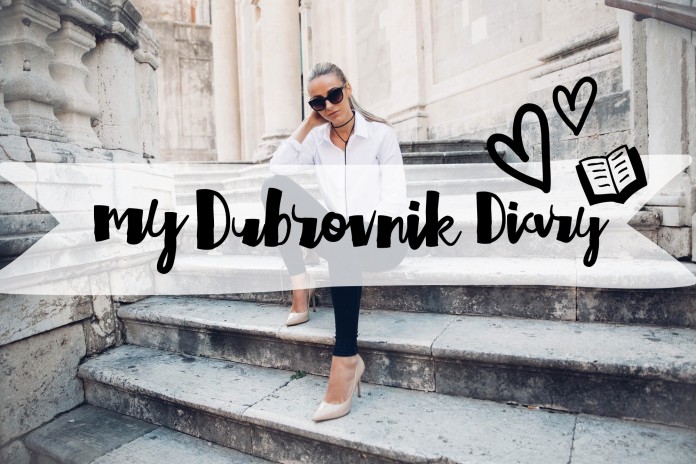 One month ago, I was in my hometown Mostar for a job. I got the opportunity to spend two days here before heading back home to Sweden. So, what did I do? Well, with no doubt I wanted to visit Dubrovnik, one of my favourite cities in the World. Dubrovnik is approximately 3 hours from Mostar and I wanted to spend the whole day there, taking a chance to see a lot and to shoot as much as possible. Which I did.
When we arrived in Dubrovnik, we went to the Old Town, since it was a couple of years ago I was there. We walked through the Pile gate, took some photos and walked down to the caffes and enjoyed some coffee in the sun. Oh, I have missed that feeling so much! As always, the city was full of tourists, but not as much as during the summer. Finally, it was the time for me to shoot my second look so we strolled through the Old Town. An interesting thing we saw was that some buildings had just been used to film the Star Wars. How cool is that?
When a place is this beautiful, I could just walk and walk the whole day with the camera in my hand. All these old buildings and small streets are so fascinating and beautiful… The whole atmosphere is amazing. I got so many ideas and my creative part was just blooming! I wish I had more time to stay.
Later that day, it was dinner time and we went to one of the restaurants. I didn't even have to check the menu because I already knew what I wanted- a grilled octopus. When in Croatia, this is always my first choice, so if you haven't already tried it, you should! The restaurant had a great sea view so we were eating and watching the sun go down… We ended our visit by taking a quick stop near the bridge so that I could capture my last memory from Dubrovnik. It was such a great day. The first thing I said when went to the car to leave Dubrovnik, was that I want to go back to Dubrovnik this summer.
A few days after, I got an invitation to become a part of GoDubrovnik. Can you imagine my reaction? Well, I'm very happy to tell you that I have decided to do this. Dear readers,from now on I want to share my Dubrovnik experience and so much more with you. I'm so exited and I hope you are too.
By introducing this to you, I also want to share a cool thing that I definitely think you should be a part of. GoDubrovnik is having an amazing giveaway, and you should definitely try your luck! The prizes are ahh-mazing! Find the instructions here.
I hope you liked my first post and I promise there is so much more to come ! Stay tuned because it's going to be fun!
Love,
Sendi