Knowing how to make prikle is almost mandatory for a Croatian. Similar to krafne, Croatian version of doughnuts, prikle or fritule (fritters) are also made throughout February, as well as holiday season in the country. During the carnival month and February festivities in Dubrovnik, there is every chance you will be greeted with fragrant and sweet prikle and a little brandy to warm you up upon entering any home in Dubrovnik.  These are esentially aromatic bite-sized fried dough balls. Unlike krafne, we don't use a filling for prikle and they are somewhat smaller and a bit more simple to make.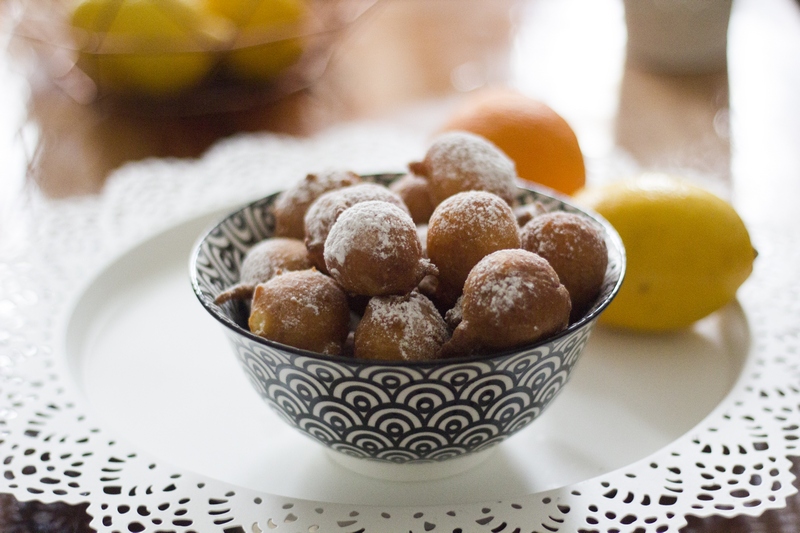 Taking into consideration different dialects spoken throughout Croatia, in Dubrovnik and along Dalmatian coast these are called prikle, in other areas fritule. Traditional prikle are made of yeast dough, but there are different versions, including this one made with yogurt and baking powder. It is just a way to simplify the preparation, but it makes equally tasty prikle. Sometimes people use grated apples in the dough, making the final result soft and moist. There is one rule to keep in mind: these are flavoured with some orange or lemon zest and grape brandy (called loza).  You can also use rum. The only tricky thing about making this recipe is learning how to control the oil temperature. Too hot and they will be charred. Too low, and they'll be oily-soggy balls. The best way (unless you use a kitchen thermometer) to test the oil temperature is this old-school one: insert a wooden spoon handle into it. When the bubbles start forming around it, the oil is ready for frying. When they are done, dust them with powdered sugar or sprinkle with granulated sugar. 
2 eggs

 

200 ml yogurt

 

300 g all-purpose flour

 

1 tsp vanilla extract

 

50 g sugar

 

12 g baking powder

 

30 ml rum or grape brandy (loza)

 

Grated zest of ½ lemon

 

Sunflower oil for frying

 

Powdered

sugar

 
Combine flour and baking powder, whisk. In a separate bowl, whisk eggs with yogurt and sugar. Add vanilla extract, rum and lemon zest. Add dry ingredients and whisk until you get a smooth batter (no lumps allowed).

Let the batter rest for 15 minutes.

In a pot, heat enough of sunflower oil (test the temperature with a wooden spoon handle like described in the text). Place two small spoons into a hot oil and take a spoonful of batter. Insert the batter into the hot oil, using another spoon to help it slide off of a spoon. Fry until golden on each side. Take the fritters out onto a plate lined with paper towels that will absorb the extra oil. 

Dust with powdered sugar and serve.