Despite the fact that Dubrovnik is chiefly known for its numerous monuments, its legends and long history, it is also worth remembering that after a possibly hot and tiring day of sightseeing there is a wonderfully tempting way off cooling off and relaxing. There are beaches here, and even a choice of 'Stjenovite' or 'šljunčane', crowded or calm, whichever you personally prefer. Dubrovnik can offer you both and there's nothing better than taking a plunge in the crystal clear sea before, after or instead of a bit of cultural exploration. I had the opportunity to visit some of the beaches in this city and I selected two, totally different, and can't decide which one I like the most. I hope that choosing between two of them will be easier for you!
Amazing location, relaxed atmosphere, "summer-way-of-living" and one of the rare places where years don't seem to matter. Here everyone can have fun and enjoy the particular pleasures that Šulić beach has to offer.  A love for this place is something that local people pass down from generation to generation. Šulić beach is located very close to the Old Town, in a bay from which you can enjoy a fine view of the imposing fort Lovrijenac. This rocky beach offers you the satisfaction jumping into deep blue sea, and of relaxed afternoons away from crowded places. It is a small beach, primarily known only by locals, and is the perfect escape if you need to slow down and have some time for yourself.
Since the 19th century this beach has been a place where locals get together and enjoy cooling down on hot summer days. Šulić beach, the property of the Šulić family (Luka Šulić, one of the 2Cellos, is a member of the family), is an authentic face of Dubrovnik. Even the Game of Thrones people recognized the particular beauty of Šulić beach and some of the water battles scenes were filmed here. During the season at Šulić beach there is a particular day that is celebrated here with an open invitation to anyone to join in: it's the 10th August, the day of St. Lawrence. Visit Šulić beach on that day and you won't regret it! There is another beach with a totally different style and atmosphere to Šulić beach and it's definitely one of the most popular beaches on the Dalmatian coast. It's a place where both locals and tourists can enjoy spending some time during the season.
Banje is a pebble and sandy beach, perfect for families with kids, but also with a special appeal for young  people who also want to party and have fun. At Banje beach you can if you like relax on a deck chair by the sea under a sunshade and enjoy cocktails or coffee or even lunch, with an amazing view. But there is also no problem with just flinging a towel on the sand, as many are happy to do. Because of the beach bar Banje beach begins its transformation into night club as the sun goes down.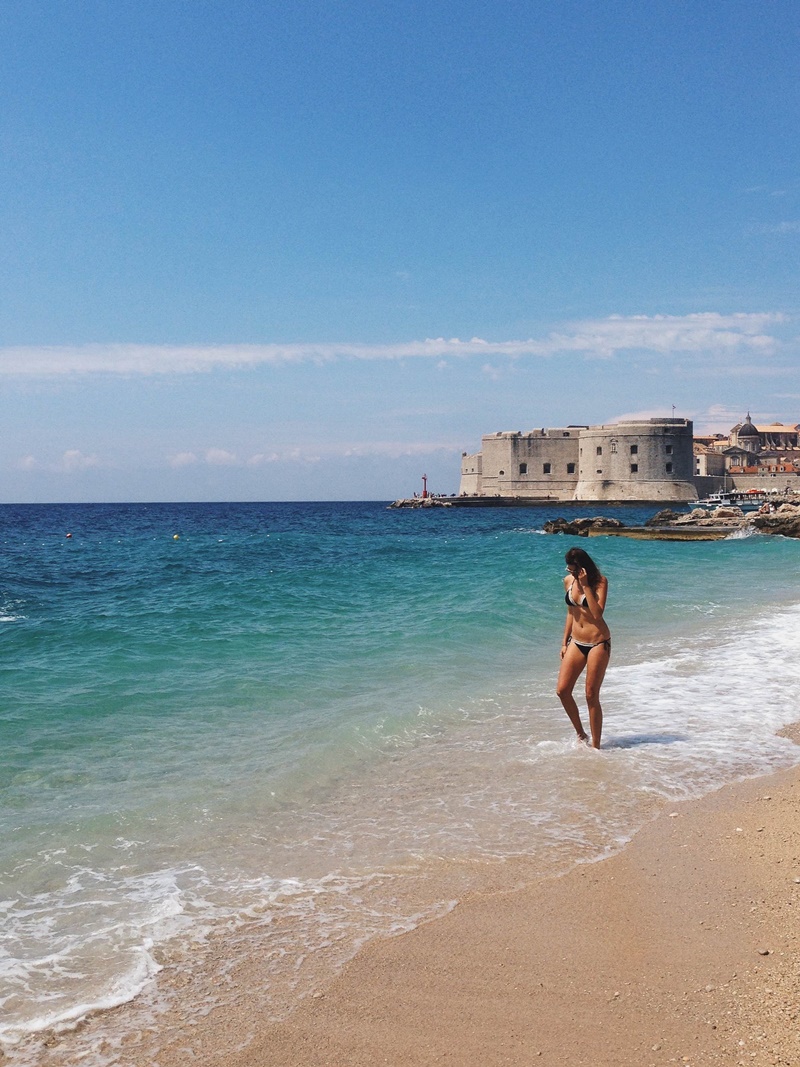 The beach is located close to the Old Town and has a beautiful view back towards the town and also of the tree-clad island of Lokrum just across the water. Banje beach offers showers, a changing area and sun beds with parasols for rent. It is also possible here to enjoy a range of water sports (jet-skis, paragliding, water tube, banana and many others). If your travels should ever take you to Dubrovnik, be sure not to miss the opportunity to see the beautiful view from Banje beach and to surrender to the temptation to refresh yourself in the sea.