Thinking about a cruise in Croatia? It is a great idea. With small ship Adriatic cruises, you can't make a mistake. The only thing you need to do is to choose just one. It's not so easy as it seems but don't worry.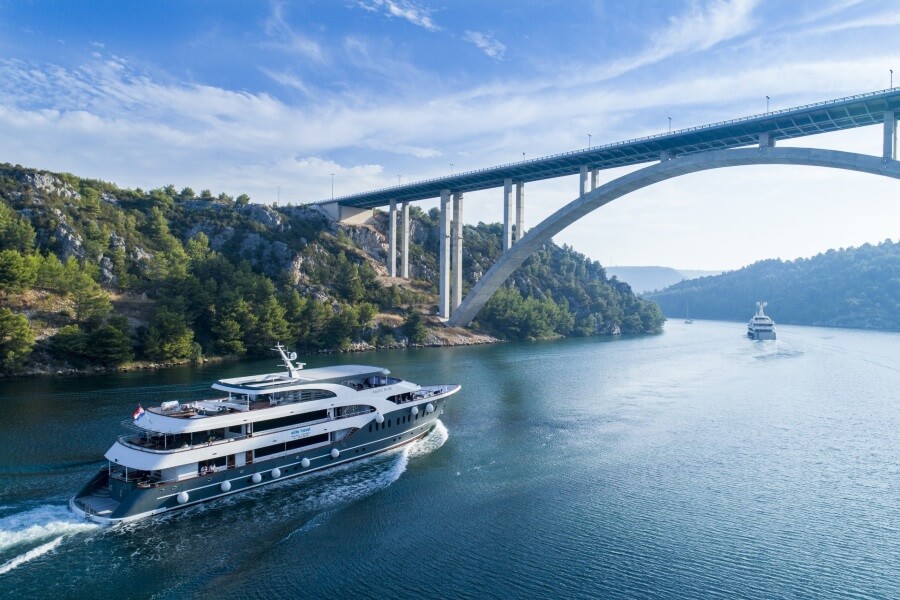 What part of Croatia do you want to explore? Islands, Dalmatian coast, or maybe the southern part of Croatia? Decide if you want to go on a thematic cruise – wine cruise, party cruise, naturist cruise, gay cruise, gourmet cruise or yoga cruise – My Croatia Cruise has it all! Explore a bit, and you will find many different special interest cruises.
Take a one-way cruise or a return cruise. If you have enough time you can enjoy many beautiful destinations. All departure cities are worth visiting – Dubrovnik, Split, Opatija, Omiš – pearls of the Adriatic Sea, beautiful and unique cities, rich in cultural heritage. In every destination, you will have a possibility for different activities and excursions (depending on the time you spend at one place). You can have a fascinating time, see attractive places, and try various things or just enjoy the Adriatic Sea and sun on beautiful beaches. One thing is for sure; you won't be bored on any of cruises in Croatia. Except visiting different locations, you will see inspirational scenes but also enjoy various onboard activities.
The best places to visit while on a cruise in Croatia
The most exciting thing about cruises in Croatia is the number of beautiful places you get to explore. Family-friendly cruises in Croatia are one of the most popular, so you don't
have to worry if your family will have the time of their lives!
Dubrovnik

Whether you are in Dubrovnik for the first time or not, you will be amazed when you see the beauty of Dubrovnik Old Town. Stroll the city's ancient limestone streets (view map of Dubrovnik Old Town), observe baroque buildings and the endless shimmer of the Adriatic Sea, be inspired by a walk along The ancient Dubrovnik City Walls that protected the capital of a sophisticated Republic of Dubrovnik for centuries.
In the 14th and 15th century Dubrovnik was the most significant maritime and mercantile center of the Adriatic, alongside Venice and Ancona. To learn more about its history and tradition you should visit Rector's Palace, Sponza Palace or St. Blaise Church. Also a well worth the visit is the Franciscan Monastery with the oldest pharmacy in Europe.
Visit Srđ hill above the town and fort Imperial dating back to 1810. It played a vital role in protecting the city from various invaders since the time of Napoleon till modern day. The fort Imperial now houses a museum display of the Croatian War of Independence (1991-95) with many exhibits including all kinds of weapons and shells which hit Dubrovnik during the bombardment, documents, and video presentations.
Don't miss a Cable car ride to Srđ Hill (413 m) for the spectacular view, photo ops and visit fort Imperial.
Here you can find a lot more things to do in Dubrovnik.
Explore cruises from Dubrovnik
Split

Split is the second largest city in Croatia. It is a great place to experience the Dalmatian lifestyle. Always buzzing, this interesting city has just the right balance between tradition and modernity. Step inside Diocletian's Palace and you'll see dozens of bars, restaurants, and shops.
To learn more about this city, join sightseeing Split tours with a local guide. The highlight of your morning walk will be a trip to 'Pazar'- a colorful green market just across the port, and to scent full 'Peškarija' – fish market in Marmontova Street. Buy an original Croatian cravat (necktie) at special 'Croata' shop at main square 'Peristil' or 'Hajduk' souvenir – Split football team adored by Torcida fans. Interesting hand made products can be found at the stands in the substructures of the Diocletian Palace.
Explore cruises from Split
Island of Mljet

The island of Mljet is one of the most seductive of all the Adriatic islands. Since it became Croatian National Park in 1960 (the western end of the island) it was put on the tourist map. But Mljet is still a very peaceful place. All the visitors usually visit the area around Pomena. The rest of the island is unspoiled and very calm with untouched nature. According to a legend Odysseus spent seven years at this island.
Within the National Park Zone, there are two connected saltwater lakes (The Big Lake and The Small Lake). Within the Big Lake, there is a small island called St. Mary's Island, with the 12th century Benedictine Monastery on it. You can walk around the lakes and visit the island by a local boat.
You are allowed to swim in the lakes so bring your swimsuits. If you wish to do more exercise you can rent a kayak or a canoe and row along the lakes.
Explore cruises that visit the island of Mljet
Island of Korcula

Korcula is famous by its vineyards, olive groves and small villages. The island of Korčula is the sixth-largest Adriatic island, stretching nearly 47km in length. Dense pine forests led the original Greek settlers to call the island Korkyra Melaina (Black Corfu). Korčula is the birthplace of Marko Polo and one of the best preserved medieval cities in the Mediterranean. It is often called "miniature Dubrovnik" and its southern coast is formed by small beaches and quiet coves.
While strolling through the old town, you might recognize a fishbone pattern of its streets, a very smart urbanistic achievement. The streets running west are straight to let the cool western breeze in summer. Those at east are curved to protect it from chilly winter Bura wind, while the street facing north allowed locals to rush and quickly defend the town from attacks from the sea, from Pelješac channel.
Explore cruises that visit the island of Korcula
Kornati Islands

There are 140 uninhabited islands, islets and reefs covering 300 sq km. The Kornati are the largest and densest archipelago in the Adriatic. Due to the typically karstic terrain, the islands are riddled with cracks, caves, grottoes, and rugged cliffs. Since there are no sources of fresh water they are mostly barren. The evergreens and holm oaks that used to be found here were long ago burned down. Far from stripping the islands of their beauty, the deforestation has highlighted startling rock formations, whose stark whiteness against the deep-blue Adriatic is an eerie and wonderful sight.
Because of its exceptional landscape beauty, interesting geomorphology, diversity of the coastline and especially because of the rich biocoenosis of the marine ecosystem, the greater part of the Kornati maritime zone has been declared a National Park in 1980.
Today this National Park occupies an area of about 220 km2 and it includes 89 islands, islets and cliffs, altogether with a coastline about 238 km long. Despite this relatively large number of islands, the continental part of the park forms only a small part of the total area, while most of it belongs to the marine ecosystem.
Explore cruises that visit the Kornati islands
CROATIA CRUISE SMALL SHIPS

My Croatia Cruise has more than 50 cruise ships in Croatia – we are sure you will find the one!
A great thing about cruising is you don't need to arrange anything else (hotels, transfers, tours…) –  you have everything set up for the perfect vacation in Croatia. If you are interested  in privacy and want the comfort and you are one of those  who genuinely love to sail and explore hidden natural beauties of Croatia's coast view more at Yacht Charter Croatia.
Don't wait