What's the best part of Dubrovnik? It's hard to tell. Maybe it's the World's famous City walls, maybe it's the feeling you get while walking around its idyllic old streets, maybe it's in the unique color of the sea, or the sweet, sweet weather… Well, trust me, when I tell you- it's the culture. Culture is a very wide term and sometimes is hard to identify every aspect of it while you're on your vacation here. I will try to make this easier for you. Follow these steps and by the end of this article you shall become a local too. It's ok, I know you want to.

1. NEVER say " No".
Especially at the dinner. Trust me on this one – they are just daring you to say "no". And if you, by any chance say it, you will be ignored. There is no way that you could (ever) have enough food on your plate or enough wine in your glass. You don't like it? WHAT DID YOU JUST SAY? YOU WILL LIKE IT!!! TRY IT or they will annoy you until you do. Locals here just don't allow refusal. You can think they're overly kind or even pushy, but that just doesn't change the fact you are going to eat and drink like never before. And that's an order.
2. If you see someone famous, pretend like you didn't
Yes, even if it's Kim Kardashian. Dubrovnik locals are just too cool to acknowledge celebrities, and it's always been like that. Maybe that's the reason why celebrities like Beyonce, Michael Douglas, Catharine Zeta Jones, Kurt Russell, Richard Gere, Nick Nolte, Tom Cruise, Sir Roger Moore, Tina Turner or tycoons like Roman Abramovich or Bernie Ecclestone love Dubrovnik so much? We'll never know (because we didn't even notice they were here… :).
3. We take it slow.
Food, wine, life. Especially after lunch (during fjaka time) . Leave your stress back home and take a minute to just breathe and live in the moment. Stuck in a traffic jam? Think before you honk. We are used to heavy traffic during the season, and we won't like it when you honk. Stuck in the line at the bank or supermarket? Rudeness will not be tolerated. Shut up and wait like everyone else does. After all, you are on vacation, and if it's summer- we are probably not!
4. Coffee is more important than you think
Did you know that, according to a survey, Croatians drink 22,500 tons of coffee annually and spend 22.5 million hours a year having coffee? That's a lot, and Dubrovnik is not an exception.
"Let's have a coffee" stands for many things. It's a way of socialising, talking about other people, conducting a business or having a date. But how to drink coffee properly? The most important thing is to sip it slow. When I say slow – I mean it ; having just one cup of coffee in a cafe' can last more than three hours.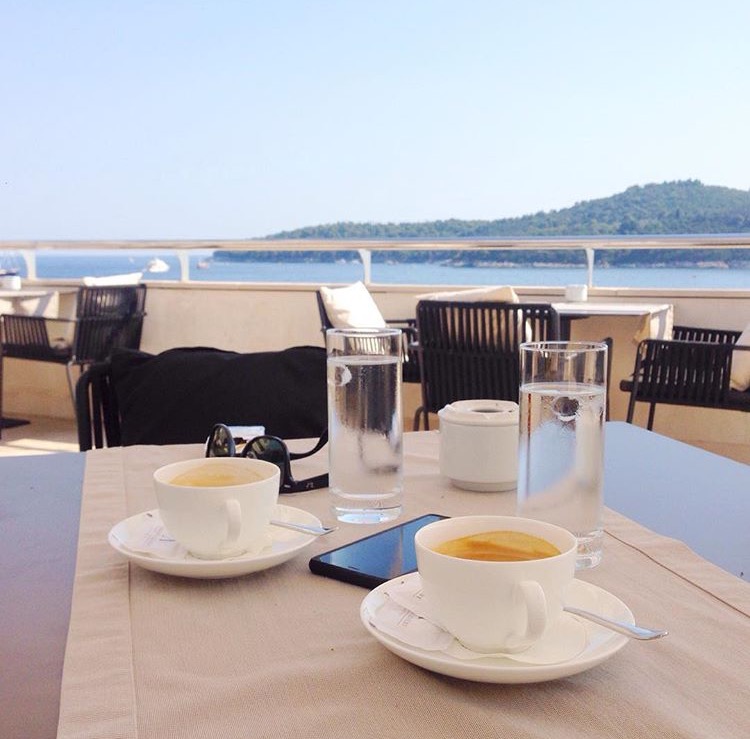 5. Dress (nice) .
It doesn't mean you need to dress up every time you walk out from your hotel, but trust me when I tell you people will like you more if you put on a nice shirt and leave your huge backpack in your room. AND PLEASE : WEAR A SHIRT (AND PANTS) WHEN YOU WALK AROUND THE OLD CITY. It's not a beach, and we think it's just disrespectful walking around half-naked (you may also get a fine for that) . And please don't wear white socks with sandals. It's absolutely horrific.
6. Dubrovnik is so much more than Game of Thrones. Act accordingly.
I know you're obsessed with the show (I am too) but there's absolutely no need that you keep calling our city King's Landing. There's definitely no king, and Dubrovnik was here long before the show came along. So sit down and learn a thing or two about Dubrovnik before you come.
7. You will drink a lot. At least one family member makes his own wine. Or rakija.
Most of the people here don't drink to get drunk. Drinking is part of living in Dalmatia, so if you find yourself here, the best way to blend with locals is to observe and imitate their drinking habits. If you pay attention, you will notice that they don't often mix liquor, they drink a lot of water with alcohol beverages and most importantly they drink it very slowly. You should know your limits, and don't act brave. I had my first glass of wine when I was 12 at my parent's family table. I know this might sound strange if you are an American, but you should understand that drinking is a part of culture here.
Cover photo: Dario Bandur