Beautiful Jelena is a professional makeup artist, and she has attracted a loyal Instagram following of more than 700,000 fans thanks, at least in part, to her uncanny resemblance to Kim Kardashian. Jelena hosts several video tutorials, expertly advising women on how to use makeup to get the Kim Kardashian look.
Jelena says she is not surprised to see her Instagram profile take the internet by storm, explaining that she had made 'a very big effort' to look like Kim – who has more than 71.4 million followers on Instagram. However, she admits that she does get a little tired of being compared to Kim Kardashian.  Jelena said: 'I am often compared to Kardashian. It is a big compliment, but sometimes it can be really boring.'
When did you start your YouTube channel?
I started with my YouTube channel over 4 months ago, and I'm pleased that it is still growing.
Why did you become a Makeup artist?
I have always loved editing and Makeup, so it was a logical to make it more professional. J
What is your target public and why?
Most of my followers are girls/women between 13 and 40 – and they are my inspiration.
How Instagram is helped you in your promotion?
Instagram has opened many doors for me. It was because of Instagram that I was able to open my own business, travel a lot, and cooperate with many brands. The most important thing is that I'm doing what I love.
You are often compared to Kim Kardashian: iss that good or bad for your work?
In the beginning it was positive, but in time it turned into a negative because some people that I'm successful only because I 'look like' Kim, and not because of my own hard work, which does not involve Kim in any way.
Do you travel often because of your job – and where?
Yes, I really do. Half a year ago I was invited to a gathering of bloggers in Istanbul in collaboration with Turkish Cosmetics, and soon I will be going to London as a VIP guest of a course colleague Karen (Iluvsarahii) and the Chidi Cosmetics Company.
What business cooperations are you favorite and why?
Many of them are great, but my favourite is the collaboration with Lilly Ghalichi, in particular with the Lillylashes Company, where I had the chance to design my own lashes with my signature.
What is the difference between being an Instagram and a YouTube phenomenon in Croatia and abroad?
In the world, it's a job like any other and has ceased to be a phenomenon; in Croatia it is, unfortunately, a subject of ridicule – which just shows people's ignorance.
How much you care about how you look in your private life?
It is really important to me – but not the most important thing in my life. People probably think that I'm looking my best 24/7, but in private I'm often without makeup, in sweatpants and my hair is most of the time just in a ponytail.
How would you define your style?
Love a classy and powerful style, s I often wear monochrome color as in sports or glamorous version.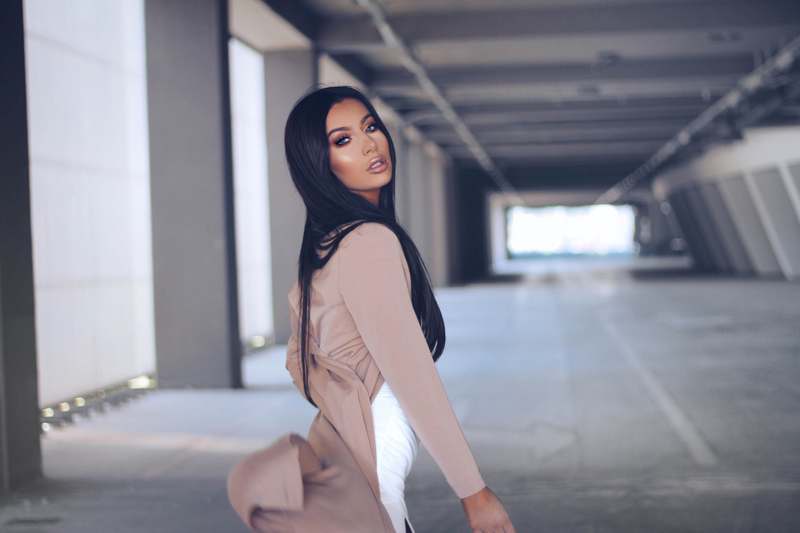 What are the products that a woman should have in her makeup bag?
Definitely balm for lips, translucent powder and concealer to fix the makeup during the day.
Do you have any advice how to make up for the daily version for this time of year?
I always recommend a good moisturizer for protection from the cold, loose, neutral color shades and very popular "Fall" colors such as brown, maroon colors or simple nude lip color.