Did you know there are over 350 different kinds of pasta around the world?
You can't go to Italy and not try all the classic pasta. After all, it's a huge part of Italian life, and it's delicious. But, if you're not from Italy, with so many options available, it's tough to figure out where to start.
Read on to learn about the absolute best Roman pasta dishes that you won't want to miss on your next trip to Italy.
1. Cacio e Pepe: The Classic of Roman Pasta Dishes
This must-try Italian pasta dish is made with only two ingredients, cheese, and black pepper. Don't let its simplicity fool you into thinking it's not one of the most delicious things you will eat when you're visiting Rome.
Despite being made with minimal ingredients, the creamy sauce is to what makes this dish. The creaminess of the sauce is achieved by stirring grated pecorino in the pasta water.
Cacio de Pepe is typically served with spaghetti. One of the great things about Cacio de Pepe is it's the only pasta in Rome that you can almost always find made with fresh pasta versus dried pasta.
A fun experience if you're visiting Rome, is to have this dish prepared right in front of you so you can see just how it's made.
2. Pasta Alla Gricia: The Oldest Pasta Dish
Pasta Alla Gricia is another staple at Roman restaurants. It's often used as a base for many other Roman pasta dishes, but it's also delectable all on its own.
This pasta is another simple one, made with a combination of Pecorino Romano and guanciale, which is a cured pork. Although it's simple, it's full of flavor. The pork adds a layer of fat which blends into the sauce, creating a heavenly combination.
Pasta Alla Gricia is typically served with spaghetti, but can also be found served with gnocchi, which is just as exquisite.
If you're interested in getting an authentic food experience, check out some of the best tours in Rome where you're guaranteed to pick the right restaurant to experience the real tastes of Italy.
3. Pasta all'Amatriciana: The Tomato Sauce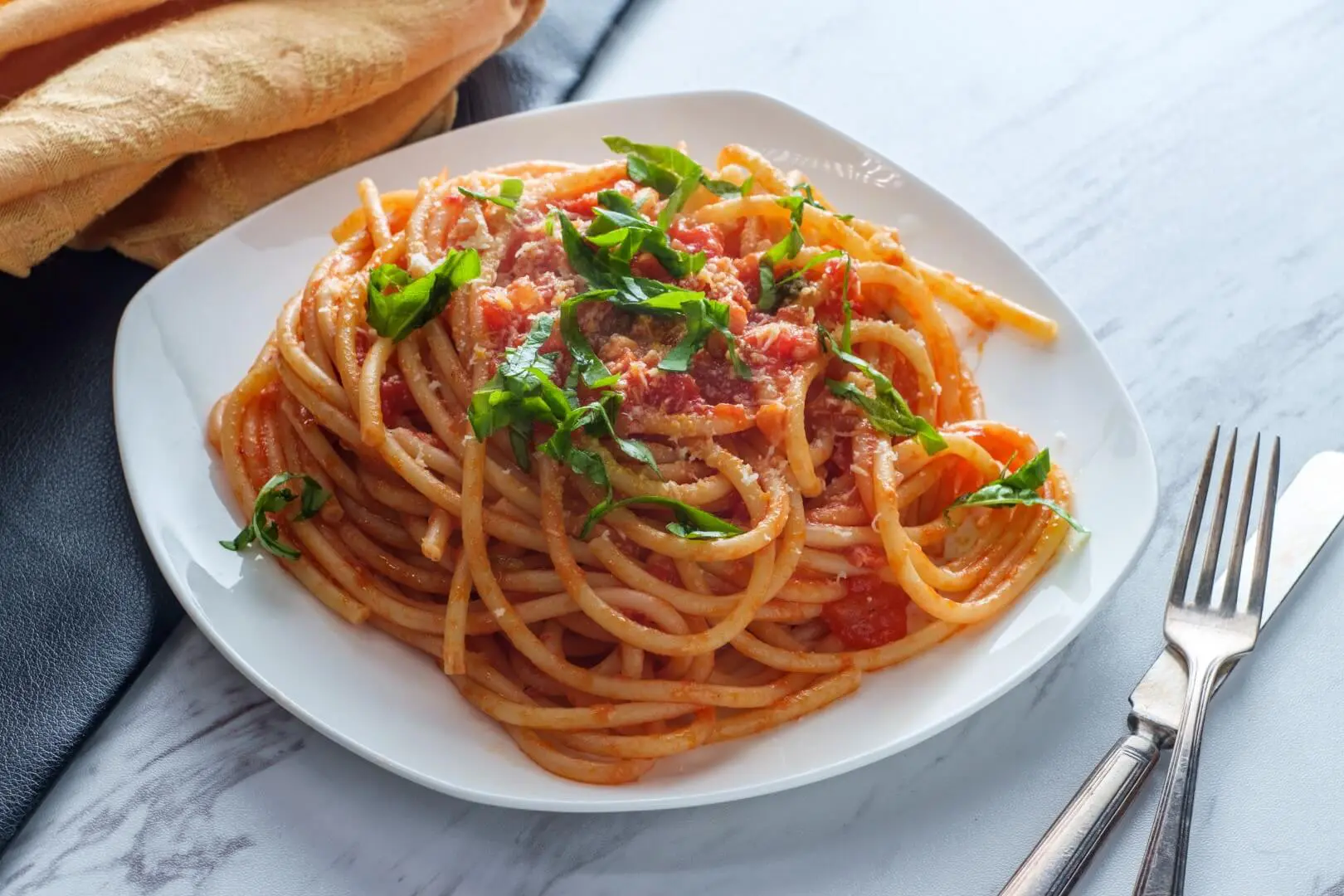 Most people know about the small Italian town of Amatrice because of the tragic earthquake that struck the region. But another thing this tiny town is famous for is the being the birthplace of the infamous pasta dish, Bucatini all'Amatriciana.
Bucatini all'Amatriciana is a good example of a pasta dish that uses pasta Alla Gricia as its foundation. This dish is prepared similarly but includes fresh tomatoes in its ingredients. Some chefs also throw in a little white wine for some extra flavor.
This dish can be made with different kinds of pasta. In Amatrice, it was almost always made with spaghetti. However, in Rome, the traditional way to serve this dish is with bucatini. You'll often see it called Bucatini all'Amatriciana on the menu at restaurants.
4. Pasta Alla Carbonara: The Workers' Pasta
In the relative scheme of things, Carbonara is a new pasta dish in Italy. It's said to have originated in the 1950s to feed charcoal workers.
Carbonara is another classic must-try when you visit Rome. The creamy sauce is made from egg, pecorino cheese, guanciale, and black pepper. When served, this dish should appear bright yellow from the eggs.
Contrary to what many Americans and some cookbooks claim, there is not any cream in this silky sauce. The creaminess comes from the combination of the egg and cheese.
Carbonara is almost always served with dried pasta, like rigatoni.
5. Cozze e Pecorino: The Seafood Lover's Pasta
If you're traveling to Rome in late spring or summer, you'll find Cozze e Pecorino on many menus. From the coastal towns outside of Rome, Cozze e Pecorino is a delectable dish containing mussels and pecorino cheese.
6. Pasta Alla Norma: Eggplant and Basil Heaven
This Sicilian favorite can be found throughout Rome, and it's one you won't want to miss out on. Pasta Alla Norma was conceived to celebrate the premiere of the Italian opera, Norma, hence its name.
Pasta Alla Norma consists of a combination of fried eggplant, tomatoes, Ricotta Salata, and basil. It's typically served with short pasta.
7. Arrabiata: For Spicy Food Lovers and Vegetarians
If you don't eat meat, and you love a little kick in your food, Arrabiata is the choice for you. Arrabiata is simply a tomato sauce with a lot of dried red pepper flakes and some garlic.
The name in Italian translates to the word "angry," in reference to how spicy the dish is. It originated in the Lazio region, which is right outside of Rome.
8. Spaghetti al Ragù: Meat Lovers Delight
Many people have heard the term, "Spaghetti Bolognese," however, that doesn't exist. What you're most likely talking about is ragù, a mouth-watering tomato-based meat sauce.
This pasta dish originated in Bologna, but you can get outstanding ragù in Rome if you know where to look.
9. Ravioli: The Stuffed Pasta
Although not a traditional Roman pasta, it can be found fresh in Rome if you know where to look. Once again, it might be worth it to consider booking a food tour, so you go to the right place because you don't want to get the frozen stuff.
Ravioli, traditionally from northern Italy, is a fresh, filled pasta. Fillings vary but could include fillings like cheese and spinach, or mushroom.
Feast Away
Now that you know about all the best Roman pasta dishes, all there is left to do is head to Italy and indulge in the finest pasta the world has to offer. And maybe go on a Tuscany day trip from Rome to try even more delicious Italian dishes.
For more content about all things food, head over to the "Wine and Dine" section of our blog for more great reads.
If you are traveling to Rome we have the best suggestions for Colosseum Underground and St. Peter Basilica tour.