We bring you 9 destination to visit once the pandemic is over. Most of the travel has been put on hold because of the pandemic. Everyone desire for going places is put on hold, nothing can stop them from planning their destination while awaiting the world to heal. For them, taking a journey provides a momentary break from their mundane daily lives. Taking a trip makes them learn new languages, cultures, and history and create new friends and unique experiences.  It makes us discover things of the world and even new ideas in ourselves that we did not know we possess. Or maybe it makes us consider living in a new place across the world. 
Top Destination to Visit Around the World
If you are one of those people who loves traveling, here are some suggestions you may want to look up for your next backpacking. Have a peak at our top 9 destination to visit for your next holiday.
Bali, Indonesia
Is there still a place like Bali? Bali is a place where you can find a small village surrounded by rice paddies. It should definitely be on your list of destinations to visit next. This scenic place takes your breath away. Despite the growing number of tourists that visited Bali, it maintained the ambiance of simple living and peace and serenity of the area. Add to the tour list of places to visit the Uluwatu Temple and Mount Agung – a volcano considered holy by the Balinese.
Virginia, USA
Located in the Allegheny Mountains of Tucker County West Virginia USA. It is a 62-foot cascade where the black water river runs its course from Canyon valley to Blackwater Canyon. The park lodge offers mountain biking, cross country skiing, fishing, boating sledding, and hiking and also modernized cabins for travelers. If you wonder why the water in the falls is black, it is because the leaves and needles create a tannic acid buildup in the water, turning it into a darker shade. Blackwater Falls is a truly impressive cascade. It is the magnificent waterfall of the east. It is hard to describe it in words, come and experience it personally, and capture it all from your own eyes.
Palawan, Philippines
Noted as one of the top tropical destination islands to visit in the world. Palawan bags a fee award from travel and Leisure best award. It is one of the top spot travel destinations around the world, Scenic panorama is only one of what Palawan can offer. Unique limestone formation, beautiful lagoons with clear water, gorgeous beaches and century-old caves, a stunning sunset, tropical jungles. This is a favorite among backpackers. Many tourists collected good memories that they all planned to come back. Besides that, the locals' hospitality is one of the Filipinos' known qualities that is one of the things tourists love most.
Bangkok, Thailand
Bangkok, the capital city of Thailand, is a beehive of activities. It is a city that never sleeps. Your visiting time won't be enough for there are so many places to visit. Here are some of them;
Grand Palace

 – It once is a former residence and museum. It is grand with the white exterior walls with the price relic hidden inside.

Temple of the Emerald

 – Also inside the palace. It is a sacred shrine with a big reclining Buddha.

Chatuchak Market

 – The biggest flea market in the world. You can buy almost anything and with the lowest price as long as you know how to bargain.
If you're going to visit Thailand, check out the https://www.thailandnomads.com/ for more information and tips for your travels.
Vaadhoo Island, Maldives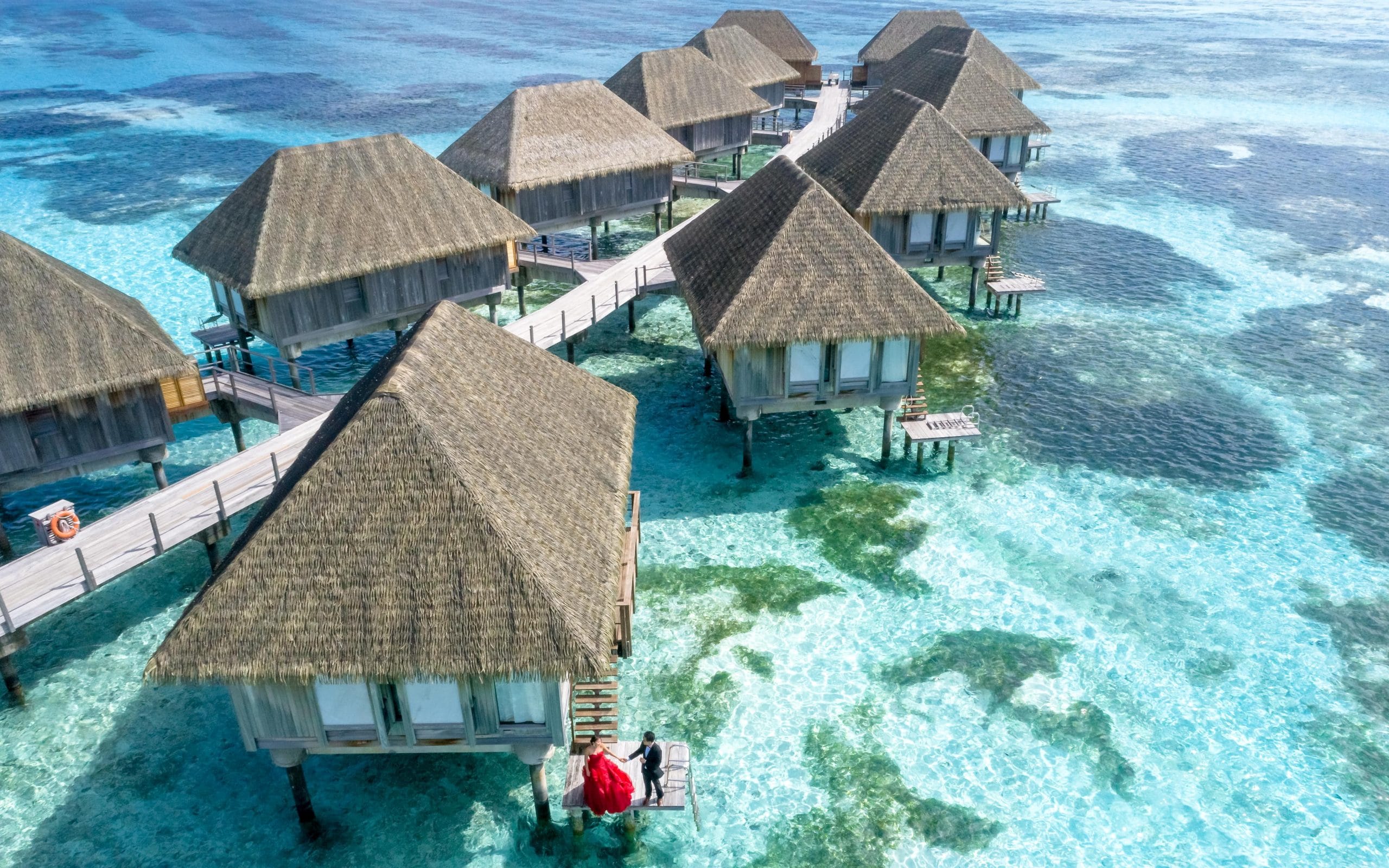 It is called the "sea of stars" of Maldives. The Maldives is known for its world-class resorts, spectacular beaches, and landscapes. However, what's incredible in this place is the glowing and sparkling sea of stars. It is even romantic for some. The marine bio luminescence is the effect of planktons that produce light, which the plankton gets from the chlorophyll they eat from the plants. No one can predict or say when and where it will occur. While waiting for it, you can visit the most extensive underwater restaurant, like eating inside a big aquarium. You can stay at luxurious resorts like the Senova Jani overwater villas. It is a lagoon surrounded by nature and a definite destination you should visit.
Zhangye Danxia Geopark, China
Zhangye Danxia is found in the eastern foothill of the Julian mountains in Gansu province. Famously known as "The rainbow mountains" or "the eye candy of Zhangye." It is admired for its unbelievable colors that resemble a masterpiece painting. The erosion of red sandstone formed this landscape. It then developed into peaks and the steppes of rocks. The rocks have different colors, sizes, and shapes. The breathtaking kaleidoscope of colors is one you can't forget. Visit this place when the climate is comfortable around June to September, for sure you'll have a great time.
Santorini, Greece
An island in the southern Aegean Sea, 200 km southeast of mainland Greece, is a romantic place for a couple on their honeymoon or just those who merely celebrate love. It is already afamous destination to visit – for its laid back and relaxed ambiance. There are also many beaches you can visit that are quite scenic with its cliffs and shores. Their sumptuous local dishes are also a good thing: the Atherinopita –  pie of fried tiny fishes with onions and flours, and many more. Santorini is a beautiful place to visit because it is warm and budget-friendly. You can explore the area on foot, walking hand in hand with your partner.
Tokyo, Japan
The land of the rising sun – what it is known for is a translation of the name Japanese which means close to where the sun rises. Japanese are known worldwide for their traditions like the tea ceremony or what they call "Chado." Japan is also well known for its arts like paper folding – "origami" and flower arrangement – "ikebana." You can't miss out on trying their famous sushi, ramen, tempura, monjayaki, yakitori, and rice wine, which will be worth it. Enjoy the sight and scent of the brilliant cherry blossoms that you'll see almost everywhere. Visit Japan and enjoy not only the sun rising but also the breathtaking view of their sunsets.
Paris, France
The "City of light." Paris is France's capital, where you can find the famous Eiffel tower, one of the eight wonders of the world. And probably the most romantic destination to visit in the world. The Louvre Museum, Cathedral of Notre Dame, and Arc de Triomphe are places to explore. Their structural design will astound you. Sample their baguette with a cafe in which they are famous. Experience Paris wealth and culture on your next trip.
Destination to Visit as Soon as Possible!
To sum it up, even though the travel restriction are strained and intermittently changing because of the increasing number of virus cases worldwide. You can always plan for your next trip, and god willing to experience the contentment travel again gives you. You should stay informed of the current advisory on travel.