Even though Dubrovnik has become one of the World's most luxurious IN places, there is still plenty of cheap (or even free) things to do in Dubrovnik. You don't need to own a yacht or spend a fortune to have a good time in Dubrovnik. Thanks to the amazing weather, a clean blue sea, our rich culture and historical heritage we have so much to offer even if you're on a strict budget.
This city is a one-town tourist industry on its own, with endless things to do all the year round. As stunning as the clear blue sea around it, the former center of the independent Republic of Ragusa invites superlatives and attracts the lion's share of Croatia's visitors. Read on for our insider's guide to the best things to do in Dubrovnik.
Top 10 budget and free things to do in Dubrovnik!
1. Dubrovnik city walls. Ask anyone what should be the first thing to do while here and this will definitely be the first thing they say. Yep, it can get pretty crowded but it's popular for a good reason. You will need at least an hour to walk almost 2 KM loop. Charge your cameras because the view is absolutely breathtaking. Some local's advice? Go early to avoid the crowds and hot temperatures. Also, don't forget your water bottles! Admission for individuals is 120 kn.
2. City Walls Walking Tour & Game of Thrones Tour. To truly understand Dubrovnik's fascinating story and its appeal to everybody, take a tour and see the old town from below and above, explorethe little side streets and listen about the legends and curiosities that are hidden in every stone. This is also your perfect opportunity to visit locations in Dubrovnik that you'd certainly miss out on if you were strolling around by yourself. You will unveil a different face of Dubrovnik by visiting the most memorable scenes from HBO's greatest TV show ever!
3. Explore the local beaches. For example – beach Banje. This divine beach is located      not more than an eye wink of the old city and it's offering a heavenly view. Take a plunge in Dubrovnik's warm crystal clear sea and relax your body & soul.
4. Get a bergain ice-cream! In Rome you would pay a fortune for it, but here shops on the main street, Stradun, provide up to 50 flavours for around 2 euros!  As an ice-cream addict, I can guarantee; Dubrovnik's ice-cream is probably the best one you'll ever have.
5. Visit the open-air market in the Old Town. This is a great way to start your day in Dubrovnik. Here, you can pick up the fresh stuff and then settle in the corner of the square in small coffee shop for your morning coffee and newspapers. Gundulić Square offers organic seasonal fruit and vegetables mostly grown in the fileds just outside the town, mostly Konavle region. Beside that, you can find localy produced goods like dried lavender, aromatic oils, home-made brandies, beautiful embroidery and many other authentic stuff. You should get up pretty early bacause the market opens every morning and it closes in the afternoon.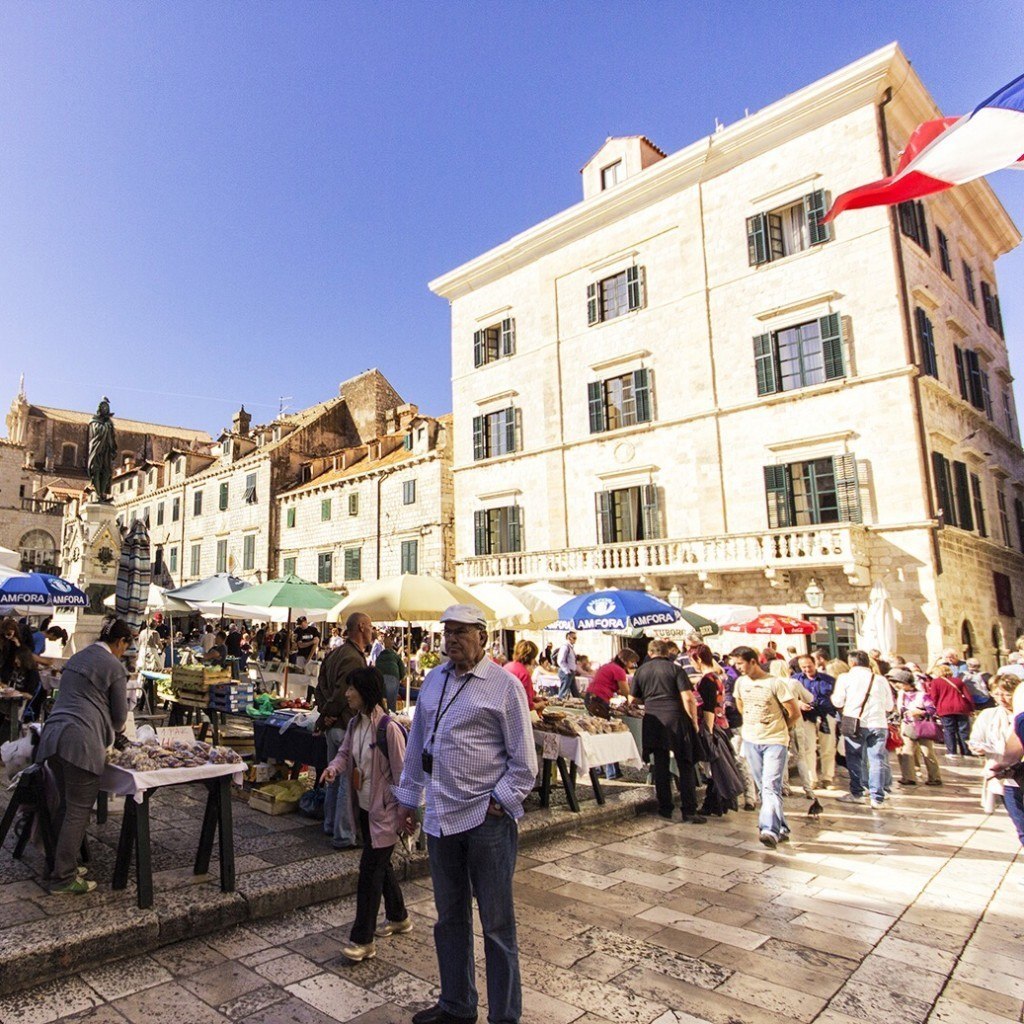 6. Visit Elafiti islands. A day trip to one of the islands in this archipelago northwest of Dubrovnik makes a perfect getaway from the summer crowds. The most popular islands are Koločep, Lopud and Šipan. The islands name originates from the Greek word elafos, meaning deer – in ancient times the islands were populated by the deer. The islands  were extremely important due to their location in front of Dubrovnik ;some of the most skilful mariners come from this region.
7. Sit in a caffé. When in Dubrovnik do like Dubrovnik's people do. And this one is an absolute classic. Croatia's favorite activity is definitely having a coffee and people watching (we mean- gossiping). We can do this for hours. The little caffés on the main street are perfect for this, but if you're looking for a cheaper solution check out the smaller streets – you will get equally good service for much less money.
8. Island of Lokrum is a must see. It takes only 10 minutes to get there from the port of Old town. This beautiful island is rich with sea side cliffs, amazing nature (botanical garden & interesting animal species) hidden rocky beaches and many other attractions like The dead sea, old monastery etc . So there are many ways to spend a couple of hours in this beautiful island just opposite of Dubrovnik.
9. The Srđ Hill. Experiencing beautiful Dubrovnik by strolling the streets is one thing. Seeing it in all of its glory from high is another thing. We suggest you to take the short cable car ride up to The Srđ Hill to see Dubrovnik from the above. The views from up there are absolutely breathtaking. If you do it independently, an adult round-trip ticket will cost you 100 kuna. If you want to experience the views from atop Srd. Hill both in the morning and the evening, the Night and Day Package would suit you best at 150 kuna.
10. Go kayaking. Another interesting, yet adventorous way to explore Dubrovnik's coast. As you cruise along the clear blue sea you circle the Island of Lokrum, explore the small caves, and make a quick stop into a private cave beach along the Dubrovnik coast line called Betina špilja.
Find out more things to do in our Go Dubrovnik Guide.
This is the place where you can find all things to do in Dubrovnik. Check out our Dubrovnik Travel Guide.
If you want to visit this fun and lively city, but you're trying to save a little cash at the same time, nearby Cavtat could offer you a slightly cheaper and very picturesque alternative.
One of the absolute things to do in Croatia is to sail the alluring Adriatic. With over a thousand, islands, islets and reefs and that crystal clear sea tempting you to dive in, life doesn't get much better.
You'll be surprised to know that Dubrovnik typically experiences good summery weather right the way through September and sometimes into early October.
There are many reasons why Dubrovnik became so popular on global scale. From the past to present we can see that this city is powerful in many ways.
Dubrovnik packs in a lot of to-dos. Start by tackling its history; patrol the elevated stone walkway, from there you'll take in the gorgeous city views by the sea.
Croatia is a beautiful country, but it also has a more bizarre side, not necessary meaning a repulsive one.
Dubrovnik is a hugely popular destination these days, and with good reason!
In the game players are sent by the Senate to investigate suspicious activities in a house. If they don't succeed the liberty of the Republic is lost – and with it their lives.
If you are visiting Dubrovnik you will find so many things vying for your attention – but one thing you must investigate is our local cuisine.
Over the past ten years, Dubrovnik has become a global superstar. This city continually makes top ten lists the world over and with good reason.
It's well known that Dubrovnik is one of the most photographed locations in all of Croatia. No matter if you shoot them from above or below, the walls will take up a good chunk of your memory card!
A two-day agricultural market entitled "Countryside in the heart of town" will be held in Dubrovnik on the 17th and 18th of September in…
Summer in Dubrovnik is swell. The weather is sweet, the city is buzzing with outdoor activities and attractions.
Travel doesn't only leave you with the whole new set of qualities that attract people to you but it also makes you stronger.
When visiting Dubrovnik, it is simply inevitable to take a swim in one of the clearest seas in the world: the Adriatic sea.