We have something special for you!
FIND THE BEST RESTAURANT IN DUBROVNIK ACCORDING TO YOUR PREFERENCES!
Want to make the process of choosing where to eat in Dubrovnik even easier? Take our short quiz and find out what restaurants would suit you the best, based on your mood, wanted ambiance & food preference.
Like every other beautiful place with a centuries-long tradition, Croatia has fantastic cuisine. We assure you food in Dubrovnik is really delicious. Every region of this country has many different and delicious things to offer, but today, let's talk about Dubrovnik. The food in Dubrovnik has many similarities with the rest of the coastal region. Diet is usually based on fantastic stuff like olive oil, fish, vegetables, and seasoned with rosemary, garlic, basil, and parsley. BUT, there are some meals that you can taste only in Dubrovnik, and we promise – they are quite spectacular. Not only we'll make sure that you know exactly what to order next time you find yourself in a local restaurant, but we will also recommend a wine that perfectly compliments the seafood of your choice! You can thank us later 🙂
Crni rižot or Black Risotto
This is a typical Dalmatian dish and every decent restaurant in Croatia will have it on its appetizer menu. On many occasions, we eat it as a main course since it's such a classic. It's black because of the squid's ink, but it's usually not made only of squid. It also contains some other seafood like different sorts of shellfish; mussels and clams.
What wine goes well with this meal?
White wine: Grk or Grk Bijeli.
This famous white wine from Lumbarda will go perfectly with this dish!
A delicious seafood platter
Well, you just can't go wrong with this one. Since seafood is still the most common delicacy of this region, let's not complicate things too much. This is simple and honest food comes from one of the cleanest seas in the world, the Adriatic Sea. The seafood in Dubrovnik is always fresh and caught nearby. When it comes to grilled fish, what you see is what you get, and you can always ask the host to recommend the specialties of the restaurant.
What wine goes well with this meal?
Red wine: Babić
This is one is a native Croatian red wine grape common to the Northern Dalmatia region. It's typically grown around  Šibenik and Primošten area.
Mušule na buzaru (Stewed mussels)
Everything that comes from the Adriatic sea is amazing, but this is my absolute favorite. Buzara is a method of cooking seafood, mainly the shellfish, typical for this area. Again, it's pretty simple; shrimps, scampi, mussels or clams are cooked with white wine, garlic, parsley and breadcrumbs and sometimes the tomato paste for color. It's the best thing ever.
What wine goes well with this meal?
Red wine: Dingač
Dingač is a Croatian top-quality red wine made of the plavac mali grape variety in a small area of the Pelješac sub-region.
Fresh Oysters
Eating oysters in Mali Ston should be an essential part of your trip to Dubrovnik area. Trust me on this one. Even the top travel experts from Conde Nast agree that this should be on everyone's bucket list. Why? Oysters that come from the seabed of Mali Ston Bay have been cultivated since ancient times and we can proudly say that they are the world's most delicious oysters. The legend has it they were consumed in honor of Aphrodite, the goddess of beauty… And who are you to argue?
What wine goes well with this meal?
White wine: Pošip
This wine is made of autochthonous white wine grape primarily grown on the island of Korčula, and it will make this meal heavenly.
Makaruli Šporki (Dirty Macaroni)
There's absolutely nothing dirty about this traditional dish from Dubrovnik. But why "dirty" then? Well, let's just say that this dish is very similar to Italian Pasta Bolognese or Ragu di Carne, and it's the heavenly meat sauce that makes them a little dirty… If you want a full recipe you can find it here.
Zelena Menestra ( The Green Stew)
Zelena ministry or the green stew is one of those traditional Dubrovnik dishes that you won't be able to taste anywhere else in the world. It has been mentioned in writings since 1480! Even though many versions of this delicious meal exist in different regions of the Dubrovnik area, this dish is traced back to the Konavle region. The main ingredients are different kinds of meat potatoes and cabbage.
The fruit of the olive tree
This particular plant has shaped the history and culture of Dubrovnik and the Dalmatian region, more than any other.  If you follow the history of the olive tree and its products, you will be able to see how the olive and its oil shaped the history of human existence in this region.  Either as food, an oil, a medicine, firewood or just olive leaves as animal feed, the olive has always been omnipresent in this region. If you explore this area you will come across some olive trees that are thousand years old and still growing along the coast as a rich testament to the common history of people and trees, while the process of obtaining oil has not changed since the Roman era.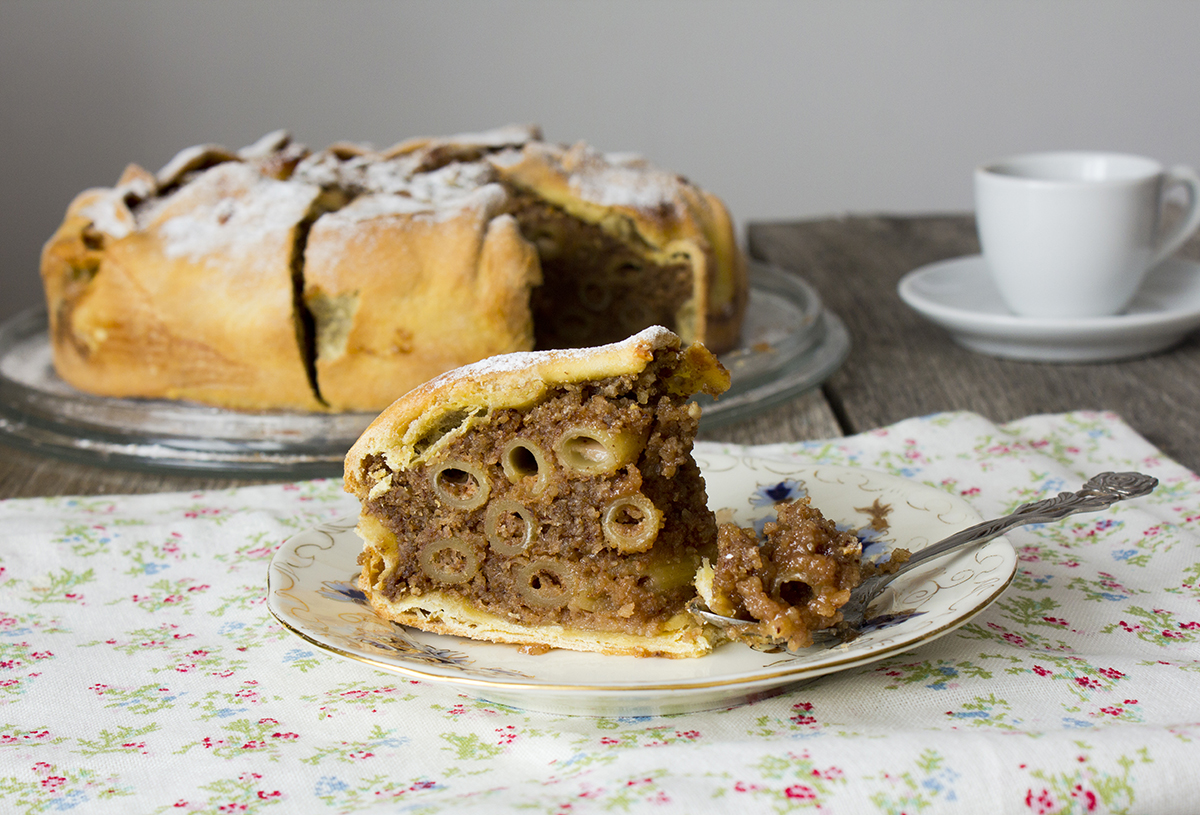 The Ston Cake
Another amazing dish that you simply must try comes from Ston. Its unusual appearance made this cake a tourist attraction, both in Ston and Dubrovnik. It has been prepared for centuries. Many years ago when cakes were considered a luxury, this cake was made for festivities and celebrations like Christmas, Easter, and weddings. Local people used pasta for the filling to economize on ingredients. Every house had its own traditional recipe but this cake is basically made of thin, unsweetened pastry typically zitone or penne pasta, locally called makaruli, firmly compressed and mixed with nuts (most often almonds and walnuts), lemon zest, sugar, sometimes chocolate and butter, all bound with beaten eggs. You can find the whole recipe here.
Rozata
This is the most popular dessert in Dubrovnik. It's a custard pudding particularly popular during summer months. When explaining this dessert, people usually compare it with creme brulee or flan. But every Dubrovnik local will tell you that this dessert is incomparable to anything else. Let's just say it's a silky scented pudding drowning in pools of caramel. Make sure you check the delicious recipe here.
Arancini or Orancini
This traditional dessert of the Dubrovnik region is basically a candied orange peel! It can also be made from the lemon peel and then it's called Limuncini. You will probably find it in every other house in Dubrovnik, usually served on the table as "candies."  It seems that this recipe dates from ancient times as well since the Romans used to gift their friends with it. You can purchase some homemade arancini at Dubrovnik's most beautiful green market.
For this article, we got some help from local gastro experts from dubrovnikeats.com 
Wondering where to try all this?
Dubrovnik Eats is a platform designed to satisfy all of your food curiosities and cravings while visiting Dubrovnik. Our vision is to show every person how we live, where we eat, and why this food is precisely the best you can find in Dubrovnik. We are here to help you with the time-consuming effort of trying to choose where to eat. Explore freely our handpicked selection of best places to grab a tasty bite around Dubrovnik.
Traditional Dalmatian Cooking Class from Dubrovnik
When visiting a new destination, one thing that makes your vacation complete is undoubtedly authentic, local food. You definitely shouldn't skip on indulging in tasty traditional dalmatian food while on your holiday in Dubrovnik. Are you looking for a way to taste all the delicacies this Croatian region has to offer, which does not imply the tedious task of picking one amongst many restaurants? We have something you may enjoy!
If you want to learn the secrets of traditional Dalmatian cuisine, booking an experience like a food tour is something made for you. The tour combines getting to know a bit more about the history of the Dubrovnik region with learning how to cook in a family surrounding. As well as picking fresh produce, you are going to cook straight from the earth.
Your discovery of the abundant gastronomy of the Dalmatian region will start by arriving at a typical country home on the outskirts of the Town of Dubrovnik. Upon arrival, your host will greet you with a homemade welcome drink. After which a licensed food guide will provide you with all necessary instructions and tools needed for your authentic culinary extravaganza.
You will get a distinctive chance to learn the recipes that have been passed down from generation to generation and are well-loved amongst the locals. Your menu depends on the session and what is freshly available from the garden. Sitting at the table with your finish meals, you get to enjoy the fruits of your labor in a friendly atmosphere paired with great wine.
You will be able to try out traditional dishes such as 'Manestra' – a cabbage and potato stew, homemade dalmatian bread, and 'Peka' – veal or lamb baked with vegetables under an iron bell.
If you like the way this experience sounds, enrich your vacation with a unique gastronomic program, and save a seat at the table for yourself.
Check out the best Dubrovnik restaurants at our Go Dubrovnik Guide !