Since we are locals, we don't usually do "touristy stuff". But when we heard about Haunted Dubrovnik tour we were pretty intrigued (even though we're even scared of the dark and don't like horror films …) But, oh well, for the sake of GoDubronik readers, we had to "sacrifice".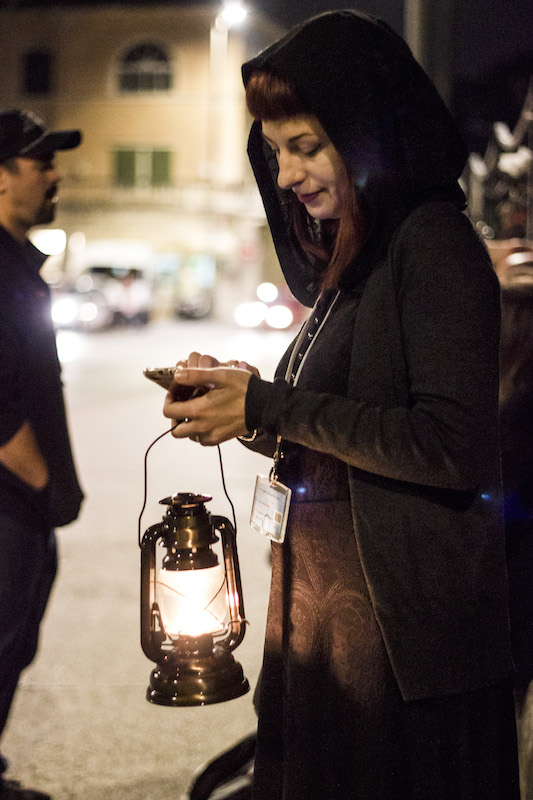 We met at twilight near the local graveyard, Boninovo. Our guide, Marija, was already there, waiting for us, holding on of those old-school lanterns, wearing a long black coat. Creepy? Hell, yeah, but besides that, she was all friendly and nice. In a few minutes, we formed a group of ten very excited people that simply couldn't wait for the tour to start.
After hearing a short story about Dubrovnik's all time favourite sucidal spot – Boninovo, we started walking towards a nearby graveyard where we listend to the tragic story of Marija Glavić. We took a walk trough the graveyard, and already learned many details that we didn't know. Did you know that the church there was once a brothel? Nither did we.
" Many years ago, Dubrovnik rivaled Venice for trade and political power on the Mediterranean. But as the city grew, it developed a dark side, too. Not many people know about this side and that's why I want to share it! This is not your typical sightseeing tour. It will take you away from the busy Dubrovnik streets, outside the city walls, and into the dark corners where old secrets still lurk. The stories I tell are a mixture of folklore legends and history. " explains Marija as we walk towards our next stop.
We stopped near Three Churches where we listened to more scary stories, and then walked to Skocibuha summer residence, one of Dubrovnik's most mystical places full of legends that are just waiting to be told. But are they really legends…or maybe true stories? True or not, we couldn't help to notice how particularly interesting these stories were once when told in the dark under the candle light. The audience attentively listened to Marija  Dubrovnik's dark history, and to be honest, it got really creepy at some moments.
We visited the old hospital, heard some of its haunted history and  then walk towards Gradac park where we enjoyed some of the scariest stories that night…. We got goose-bumps all over when Marija told us about public executions, the grim black death and the curse of Lokrum island… There was one particulary scary story, but we don't want to tell you everything… Afterall, we want you to experience it by yourself.
When you arrive to the city of Dubrovnik, a city with over 1000 years of history, you shouldn't  be interested only in the tales that you can find in guide books, or popular Game Of Thrones tours. Haunted Dubrovnik shares with you dark and mysterious stories from the past, that are, if you ask us, far more interesting than HBO's tv show. Just to give you a glimpse of what to expect on the tour, here, you can find some of the stories that Marija prepared for you.
If there's any tour in Dubrovnik that we reccommend, it's this one. We were so impressed with the atmosphere, the selection of stories, Marija's knowledge and the locations visited that we wanted to go again!
Join Marija as she strolls along the cobblestone streets of this historic city filled with dark history and ghostly tales. We promise, you'll never look at this city the same again.
Book your Haunted Dubrovnik tour here and find out more information on Haunted Dubrovnik's website, Facebook and Instagram !